Thank you NFL for sponsoring this post. Can't wait for my next Homegate!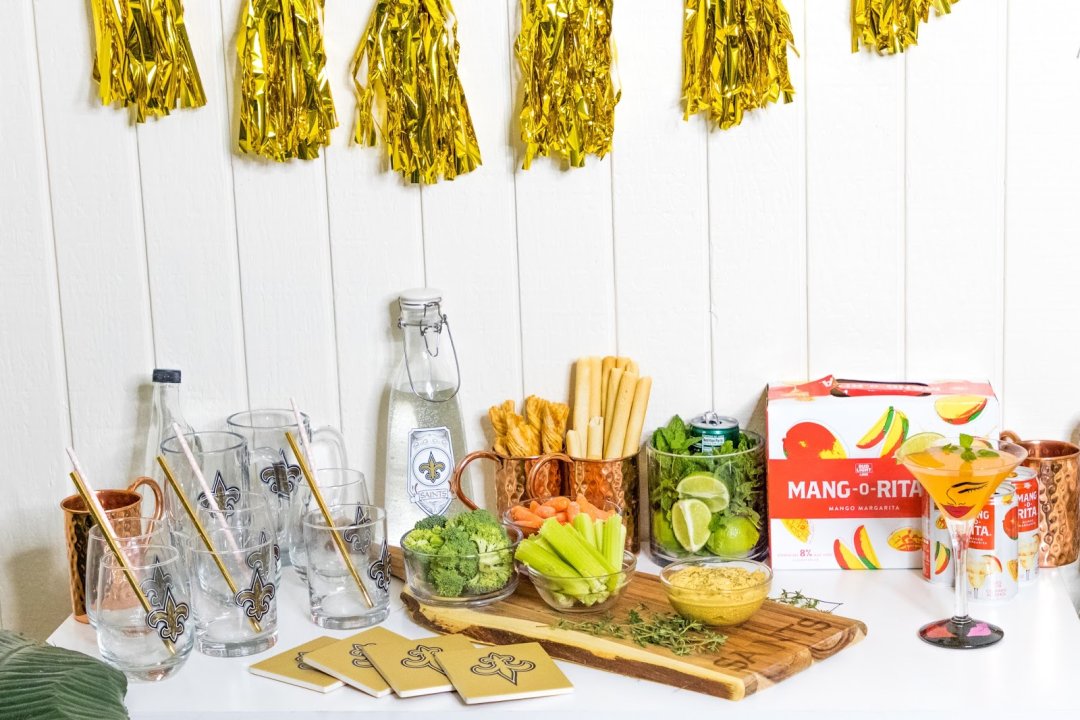 Hi, Loves.
Today's post is such a fun one and I'm excited to get you all into the football spirit and, if you already are, I'm still hoping to help you add a touch of chic to how you enjoy football.
Last week I decided to host a Homegate in my home for a few friends. I hadn't seen them over the holidays because we all traveled and this was the perfect way to get us all together. Homegating for me is a way to bring the energy of football to the comfort of my own home. It's inevitable that food and football go hand in hand. It really doesn't matter whether you are in the tailgating lots, in the stadium or or like I did last week, a Homegate in my living room.
Whenever I host friends, I always think of a theme and most times I set out to shop cute items that will bring that theme to life. I wanted to enhance the spirit of our team and I knew the one place I could find chic items to entertain would be
NFLShop.com/Homegating
. I found everything I needed from them to host my Homegate and execute the chic style I wanted.
I set up the drinks area so that as soon as my friends entered they could go straight ahead and get a drink. Here are three tips to setting up drink section:
1. Lay out glassware so guest can easily help themselves
2. Add quick bites such as vegetable dip or chips & dip. Many times guests are wanting a bite before they drink or while they drink
3. Decorate your drink area easily by adding a garland or placing cute empty containers off to the side.
I loved greeting my friends as they entered. Believe me, the effort you put into hosting your friends will be rewarded with smiles and hugs. The excitement on their faces when they saw that I put in this much effort just to watch our New Orleans Saints play in my home, was gratifying. Before the game started we chatted over drinks and bites.
I always ensure I make at least one special drinks for my guest whenever I do any hosting. For this Homegate I whipped up my special Mango Madness by using Lime-A-Rita's flavor Mang-O-Rita. The recipe is simple (1 serving):
2oz lime juice
2oz club soda
Garnish with lime wedge and mint leaf.
You can find so many more ideas on food pairings and recipes on Lime-A-Rita's
Instagram
and
Pinterest
so go follow them.
I prepared this platter and served it on the coffee table because I love giving my guest direct access and comfort. I did not want anyone to have to get up to go get food, that will risk the chance of witnessing a live touchdown.
Here are three tips and ideas on how and what to feed your guests:
2. Serve food that blends well with drinks- Cheese and crackers go well with my Lime-A-Rita, Mango Madness
3. Always have TV bites- I poured sour cream popcorn in a clear bowl so that once they were done eating from the cheese board they could enjoy TV bites while the game is playing.
I hope you guys enjoyed my Homegate post and that it has encouraged you to host your own. Make your life simple and easy by going straight to
NFLShop.com/Homegating
to get all the merchandize (like my Team t-shirt & blanket) and all the glassware and party items you need to make it epic.
I was selected for this opportunity as a member of CLEVER and the content and opinions expressed here are all my own.